Glebe House School & Nursery

A place where young minds flourish and lifelong learning begins. With a nurturing environment, exceptional education, and a stunning location in Hunstanton, we inspire every child to reach their full potential.
Join us for an Open House
We are delighted to welcome visitors for a tour of our classrooms and outdoor spaces, on Wednesday 22nd November.
Nursery
At Glebe Nursery, we wholeheartedly believe in creating a nurturing and supportive environment where children can flourish. We value strong partnerships with families and celebrate each child's unique qualities and potential.
Located in the picturesque coastal town of Hunstanton, our Nursery is nestled within Glebe House School, offering three dedicated rooms and outdoor learning spaces. Our expansive grounds provide ample opportunities for children to explore and connect with nature, promoting their overall well-being.
With a dedicated team of experienced professionals who are deeply passionate about Glebe, we go beyond being just a Nursery – we are a close-knit family committed to providing the best care and education for our children.
Pre-Prep and Prep
At Glebe, we provide an educational journey that lays the foundation for lifelong learning. With a focus on individualised attention and exceptional pastoral care, we ensure that every child's unique needs are met in our small class sizes. In Pre-Prep, we prioritise essential skills like reading, numeracy, and letter formation within the Early Years Foundation Stage curriculum.
As students progress, they participate in a diverse range of activities, including singing, cooking, and outdoor learning, while working towards EYFS goals. Our specialist teachers cover subjects such as Maths, English, Science, Humanities, French, Art, and PE, preparing our students for various senior schools without the burden of SATs. Additionally, we offer a wide range of extracurricular activities, from Spanish to Sports, Pottery to Yoga, all included in your school fees, ensuring a well-rounded education.
Welcome from the Headmaster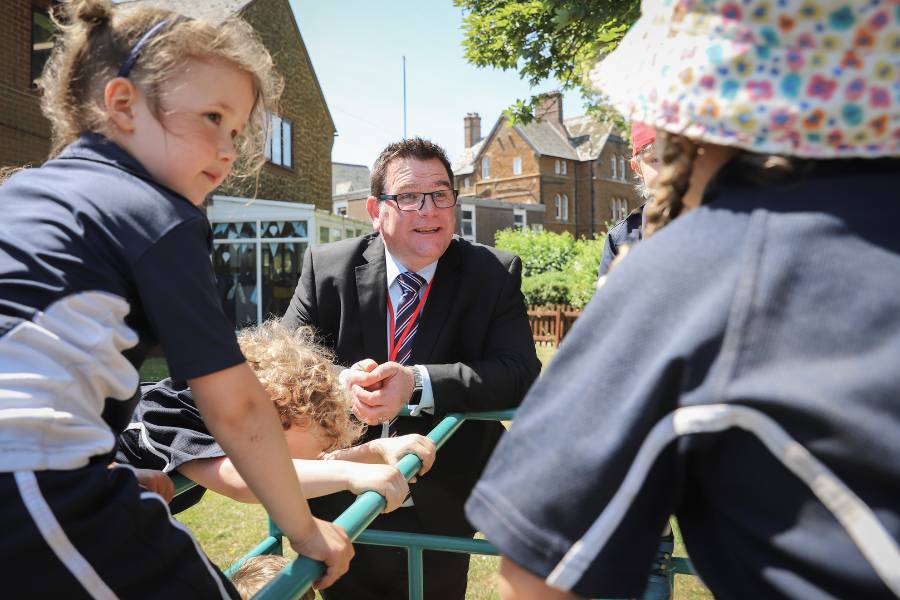 Glebe House School and Nursery has been part of the Norfolk educational landscape for 150 years, and the staff and I are proud to be part of this wonderful school. While much has changed during this time, what makes the school a vibrant and important part of this community remains the same – happy children who want to be at school, and take pride in how they make a difference in the lives of others.
We provide them with as broad a range of opportunities as possible so that they can discover what inspires them and best sets them up for their lives beyond Glebe. This is in the classroom, on the sports fields, in music, drama, the co-curricular programme and in the local community. We judge our success not just in how we help the pupils access their preferred senior schools, but in how they grow in understanding of their strengths, and develop a passion for learning both in and out of the classroom.
We are in a fantastic setting, have buildings steeped in the history of North Norfolk, and a staff who create an atmosphere of warmth and enthusiasm, which celebrates each child. It is our pupils that are the best part of our school, and I would encourage you to come see them at work, meet them and find out the difference Glebe House School and Nursery is making in their lives.
We want our pupils to question and explore all that is possible and to push themselves. We want them to live adventurously, to make and learn from mistakes, and above all, to be happy.
Welcome to Glebe House.
Adrian Stewart
Head
Discover the difference

Our small class sizes and careful planning allow us to identify each child's strengths and areas for development. Take a tour and see how we give children their best start.
Wraparound Care
We understand the needs of busy parents and our comprehensive extended care program is designed to provide support and enrich your child's day from start to finish. With a diverse range of after-school clubs and activities including sports, dance, art and crafts, chess, computing, cookery, and gardening, your child will have endless opportunities to explore their interests.
We also offer optional Prep sessions to assist with homework, followed by a delicious cooked meal, ensuring that when your child returns home, they can relax and cherish precious family moments. Experience peace of mind knowing that your child is well-cared for and making the most of their time at Glebe House School.
Our Values
At Glebe, we live by our 'Glebe Five-a-Day' values, promoting kindness and respectful behaviour within our community. With small class sizes and specialised subject teaching, we ensure that each student receives personalised academic and pastoral support, fostering a safe, happy, and inspired learning environment. Our students are encouraged to set high goals, learn from their mistakes, and persevere through challenges.
Located on the stunning North Norfolk coast, our school takes full advantage of the outdoors, with expansive playing fields, nearby beaches, and private woodland, promoting outdoor learning and a sense of responsibility for the environment. We are a school that celebrates diversity and provides equal opportunities for all, regardless of gender, race, faith, or additional needs.
Want to see more?
Take a tour of our school, where happiness and wellbeing thrive. See for yourself the excellent educational opportunities we have to offer.