We are proud to say our Pre-Prep and Prep is rated 'Excellent'

Our Curriculum
At Glebe, we follow the common entrance curriculum. This covers Maths, English and Science. To add to that, Humanities, French, Art, PE and much more is covered by our specialist teachers. We don't do SATs – we prepare our children for all different senior schools in a balanced and interesting way.

Prep Uniform
Our uniform is smart, just like our children! Available to order online and with a lot of it from high street shops, we look distinctive, well-dressed and well-presented in lessons both in and out of the classroom.

Our Activities
As well as the exciting lessons, we have a wide breadth of extra curricular activities available. From Spanish to Sports, from Pottery to Yoga, we cover every imaginable activity across the Pre-Prep and Prep – most of which are included in your school fees.

School Trips
We're right by the beach, of course, so we often go there for our lessons – on top of that, we visit all sorts of exciting places. Trips to museums, theatres and places of natural wonder happen throughout the year, as well as occasional residential visits and trips abroad.

School Boarding
We have a thriving boarding community. From the age of 7, children can stay between one and four nights with us, being looked after by our wonderful boarding team. Flexible and fun – boarding is a great way for children to build up their independence.
Pre-Prep
We know that the first few years in a child's education are crucial, so we prioritise the acquisition of key literacy and numeracy skills through a varied and interactive curriculum. Our pre-prep department focuses on creating a positive, enriching environment to develop happy, confident children who are keen to learn and embrace new ideas.
Each morning, children enjoy formal literacy and numeracy lessons, taught by qualified, dedicated class teachers. A great emphasis is also put on hearing your child read every day. Class sizes are small and children are taught in single year groups to allow us to tailor lessons to individual needs. Regular target setting and assessment is carried out in order for us to fully understand the next steps your child requires.
Prep
What can history show us about tolerance and respect? Does looking after the environment matter? Why is logic important in maths? How can art help us understand the world? These are just a handful of questions that our children tackle when they study with our specialist teaching staff from the age of seven upwards.
Prep class sizes remain small and our academic programme challenges our children, going beyond the National Curriculum to meet the requirements of Common Entrance. All pupils who have left at the end of Division VIII over the last 20 years have moved to their first choice of senior school, with 25 per cent gaining scholarships. Former pupils – or Old Aquilians as we know them – have achieved more than 90 per cent A* or A grades in their GCSE examinations three years later, and we believe the seeds of their success are sown at Glebe.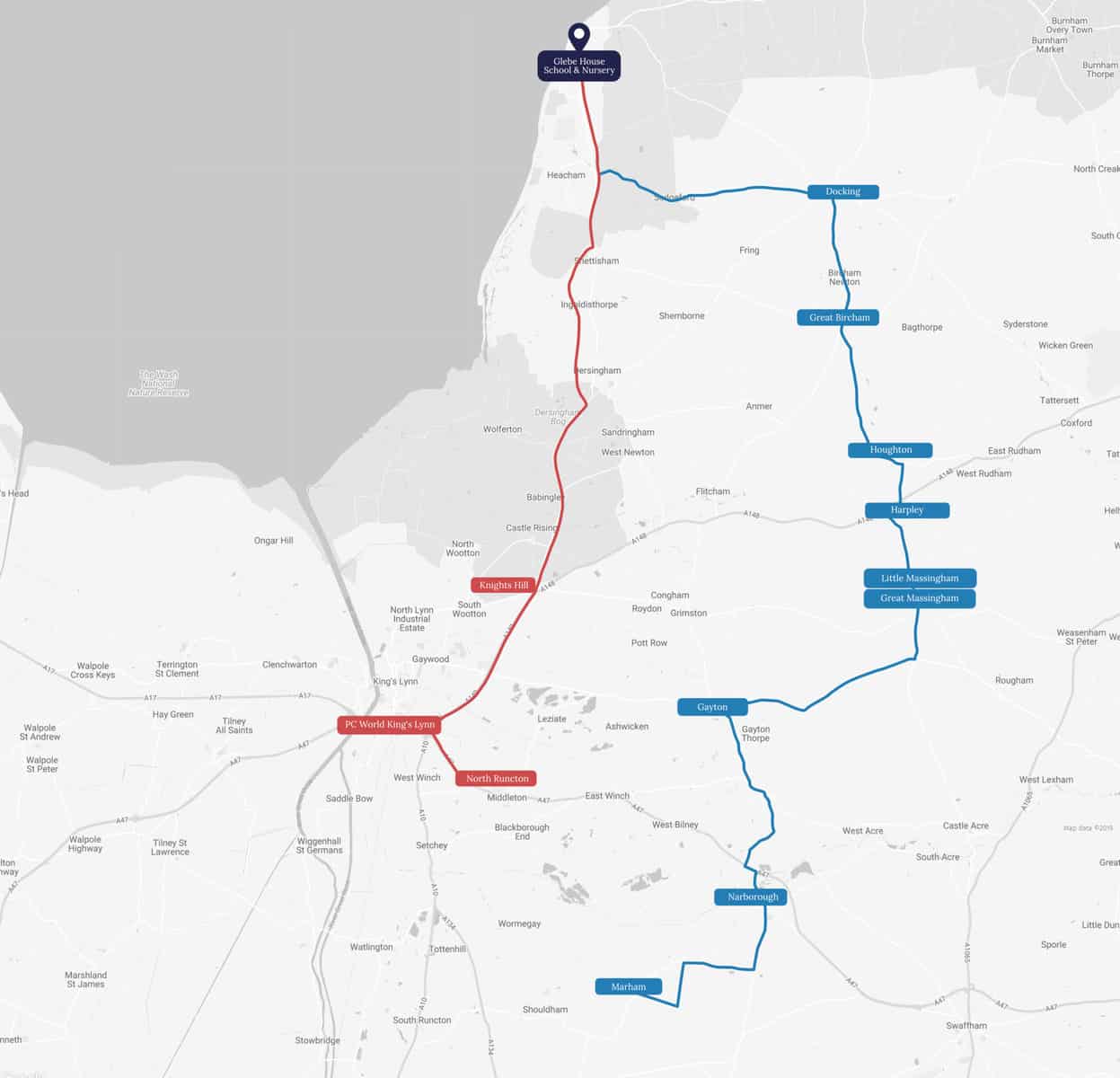 A149 From Hunstanton to King's Lynn
Calling at:
Knights Hill
PC World King's Lynn
North Runcton (A47)
Heacham
Docking
Bircham
Houghton
Harpley
Little Massingham; Great Massingham
Gayton
Narborough
Marham